Social Media marketing is booming and the best way to market your business is by running paid ads.
There are many social networks out there and the best ones are Facebook and Instagram.
Not only because it has billions of users but also because you can target the specific and the exact people when you are doing Facebook marketing.
This is an ultimate guide to Facebook marketing where we will see all the things that you need to learn as a beginner.
Overview of Facebook Marketing
We will not give more time in the introduction and we will get into the actual value first.
Therefore, we will keep this short and to the point.
Facebook Marketing is the best marketing strategy you can use for many reasons. One of the most popular reasons why people use Facebook Marketing is because of targeting.
You can target a specific group of people here.
Facebook gives you maximum targeting options using which you can target the right audience.
In simpler words, only your potential customers will see the ads if you do the targeting right.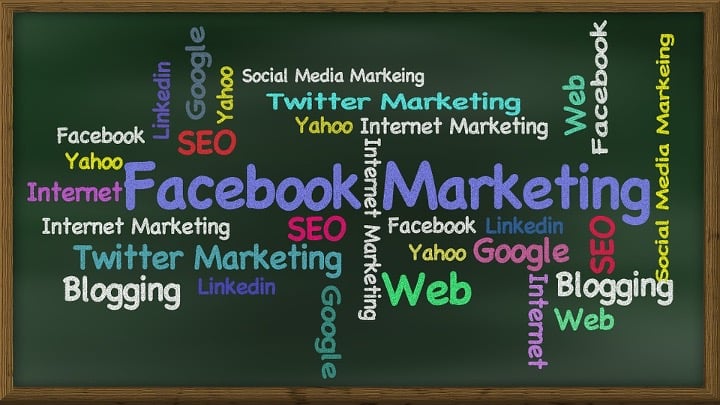 The next reason why Facebook is popular for marketing is because of the cost.
It is a lot more affordable to market your product using Facebook marketing.
Just so you know, you can show your ads on Facebook, Instagram, and Facebook operated networks using Facebook ads.
So, it is not just limited to facebook.com.
You will get a lot of options where you can show your ads.
Of course, you can adjust all the settings and visibility of the ads.
So, this was all you need to know in the overview of FB Marketing.
Pre-preparation for FB Marketing
Now, we will see what are the things that you will need to do to start FB Marketing.
First of all, we will create a Facebook page and Instagram business account (if not).
To create a Fb page, you can go to Pages from the side tabs or you can click on Down arrow right beside your name.
Now, you will see the option to create a page from there.
At first, you will need to select the main category of your page.
Once you select the category, it will ask you to set a profile picture and a cover photo. Add a logo and a cover picture.
Thereafter, you can complete the page setup.
It is mandatory to have a page to run FB Ads.
Now, your next job is to create a brand's Instagram account if you don't have it already. Make sure it is a business account.
You can go to Settings > Accounts.
You see an option to convert your account into a business account.
Now, you need to click on "Business option".
It will ask you to connect the Facebook page with Instagram.
You can simply log in with Facebook and it will automatically connect.
Your primary setup is done.
Now that you have the pages, we will create a business account which we will use as ads.
You can go to business.facebook.com or you can click on the "Manage Ads" from the drop-down.
Both will ask you to create a business account.
You can enter your details and your Business account will be ready to use.
Inside it, you will have to create an ad account.
When you create a business account, one ad account by the same name will be created automatically.
You can add more ad accounts if you have multiple clients.
Exploring the ads Manager
You can manage all the ads actives from the ads manager.
You will see the three dots on the top-left side when you open Facebook for Business.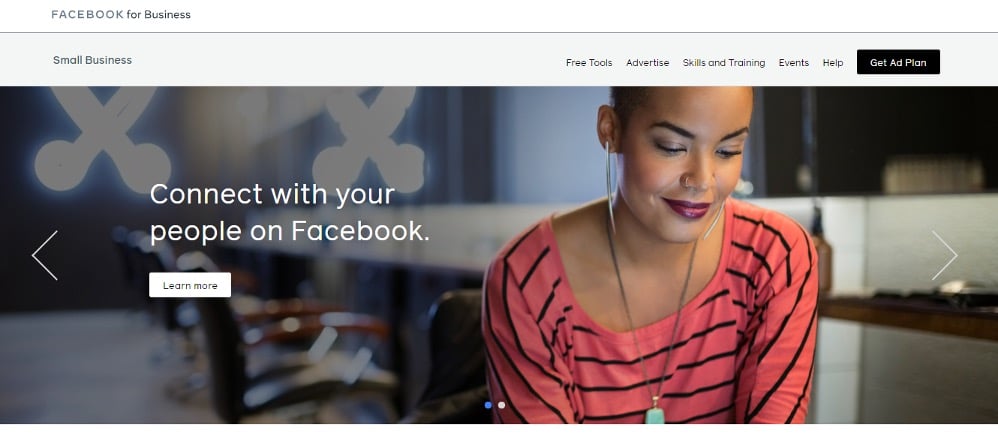 Click on ads manager and you will be taken the ads interface.
Here are three levels that you need to know when it comes to creating ads:
The campaign is the main thing that you can run.
Inside the campaign, you can create various ad sets.
Ad sets have various ads (of course).
So, you can create one or more ads in each of them.
Once again to make things simpler.
You can create multiple ad accounts.
Each ads account has various campaigns
Each campaign has multiple ad sets
Each ad-set has various ads.
That's how you can categorize your ads.
We will learn all these things now. For now, we will start with the campaign.
Creating your First Campaign
When you open your ad account, you will be in the campaigns tab.
You will see an option to create an ad.
Alternatively, you can click on the plus button.
It will take you to the first step of ad creation.
Here, you will have to select a goal.
There will be many goals from which you need to select one goal.
You can select traffic, apps downloads, etc.
If you are a complete beginner, you can carry on with the traffic goal here.
Select "Traffic" and give a name to your campaign.
Only you get to see the name. So, make sure you give the name accordingly.
Make sure it is easy to identify.
For a clothing brand, you can name it has "Clothing – website traffic".
If you have more than one clothing website, you can also add the website name.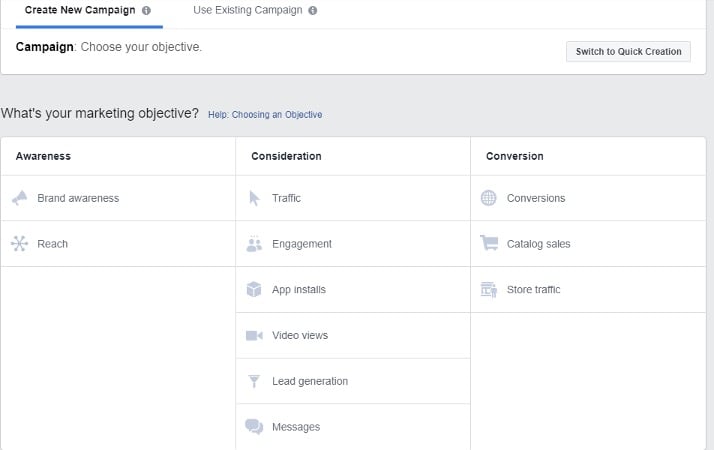 Now, you can simply turn off the rest of the things that are A/B testing and budget optimization.
A/B testing is useful if you have more than one campaign to try.
Budget optimization is useful when you want to set a particular budget for your entire campaign.
As of now, we will set the budget according to the ads.
Setting up an Ad-set
Now, we will create an ad set. Once you will have created a campaign, it will take you to the ad sets option.
Here, we will create an ad set.
You can give the name as per the people we are targeting.
It will ask you where you want traffic.
You can select from the website, app, or WhatsApp.
We will see an example of the website here.
So, select the website and continue.
Turn off the rest of the options and come to the "Create an Audience" part.
This is the most important thing in the FB Ads.
So, make sure you pay special attention if you want to learn Facebook marketing.
The entire Facebook Marketing will work on this.
This is the core part–we will target the audience here.
You can also use the saved audience but that's for the experienced people.
Targeting option
You can first select the basic details such as location, age groups, gender, etc.
It should be just like your potential customer.
Taking the same example again. If we are selling men's cloth.
We will select a location for the region where you are delivering the products.
Let's assume you only deliver to Philadelphia, PA.
We will select Philadelphia as the region here.
If you are not selling t-shirts for adults, you can select the age group from 18 to 55 or as per the size you have.
The gender will be men in this case.
Now, we will carry on to the targeting.
You can target people based on their interests, behavior, and many other things.
As of here, we will be targeting the people who love fashion.
You will see many suggestions in the dropdown.
You can select two to three that suit the most.
Now, if you want more conversions, we will only target people who are more likely to shop online.
So, we will add one more thing that is "Online shopper".
That will be a behavior we are targeting.
You can try out different things here.
It all depends on what your business is.
You can also exclude some of your interests.
Let's say, you don't want to target people who are from a particular location then you can simply exclude them.
Select "Exclude" in place of "include".
You can see the image for more information.
As you visit the Facebook targeting, you will come to know all the things here.
Budget and Schedule
Now, it's time to set the budget for the ads.
You can set two types of budget here.
One will be the daily budget or it can be the lifetime budget.
We will select a daily budget here as it is more convenient.
When you add the budget, it will also ask you to enter the average link cost.
You can also select how Fb will charge you.
On the right side, you will see the estimated reach and the clicks.
This will change as you enter the costs and the daily budget.
You can either run the ads directly or you can schedule it–this is totally up to you.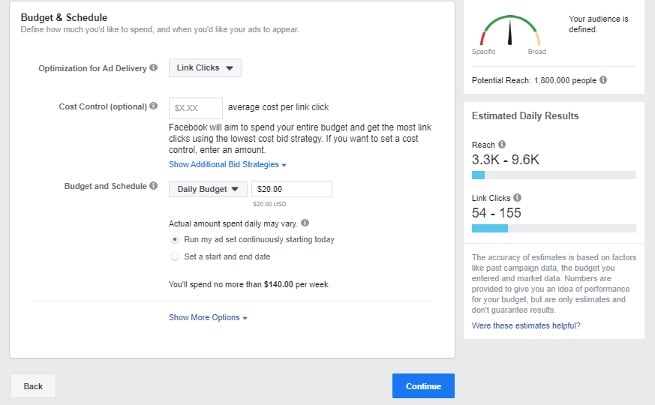 If you don't get all the things here then it is a better option to keep everything as it is.
Just change the daily budget and there you go. No need to worry.
Creating an ad
Our last step is the place where we will create an ad.
You can select the page which you want to use for the ads.
Once you select the page, you will have to select the type of advertisement you want to do.
There are three main ads you can do.
Single image ads: This is the place where Facebook will display a single image ad or video ads
Carousel: Carousel is the place where you can display two or more than two ads. The user will see all of them in line.
Collection: As the name says, it is a group of all the things that can be opened in a full screen.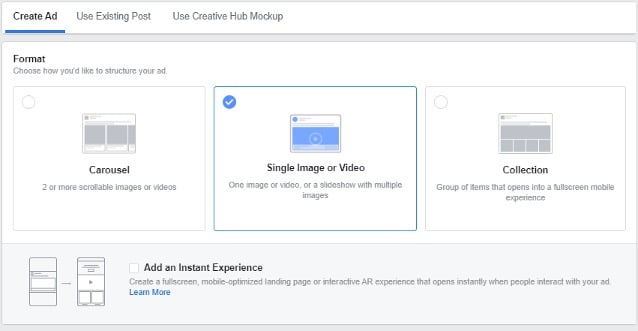 A single image or video ad will work best for most of the businesses out there.
For the eCommerce store, you can go with Carousel ads which will showcase multiple products at once.
Both of them are good.
The collection is not much recommended for most of the things unless you are in an art niche.
You will also have to add media over here.
Things like media, description, headline, etc are the next things that you will have to add.
Make sure the image is eye-catching and doesn't contain any trademarks or copyright symbols that you don't own.
Make sure it is genuine and doesn't look any spammy.
Once you are there, you can surely try different images from there–that's it.
Once you have done all these things, it can save the draft or publish it.
Tips for Facebook Marketing and strategy
We won't mess around with your mind with thousands of tips.
Instead, we will be a few tips that are the most important ones.
Facebook Marketing or Facebook ads are all about testing.
You will have to set a low budget at first.
For example, you can set a $5 daily budget at first.
Run the ads for at least 7 days and if it doesn't work, you need to make some changes.
Keep changing and keep a note on what works and what doesn't.
After a few tries, you will be able to figure things out.
It will tell you what works and what doesn't.
Further, you can keep changing the images and the description.
The few most important things are
Targeting
Cost per Click
Image of the ads
Description of the ads
Headline and Call to Action Text
If you figure out these things, you will be the maser of Facebook marketing.
Don't forget to try out anything that comes to your mind.
Final Words
To conclude, this was all about advertising on Facebook.
This was a beginner-friendly guide for the people who are just getting started with Facebook Marketing and Facebook ads.
FB Ads are all about testing and making things right.
If you want to increase the speed and optimize your campaign, you can surely contact us.
We have already helped businesses all over the world with Facebook ads and digital marketing.
A simple message and our team will be there to help you out wherever you need.
You can request a quote for more information about Facebook ads or any other sales or marketing for your business.